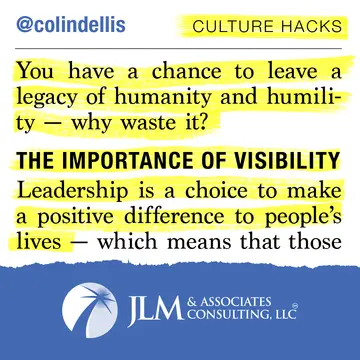 Enlightened Leadership Blog | Business Book Recommendation for You | September 2023
Recently, I was doing end of summer organization during which I ended up revisiting a few good business books.
Then, Culture Hacks by Colin D. Ellis caught my attention since many folks are returning to the office, figuring out "new" schedules, and trying to create more enticing work environments where collaborative culture can thrive. So, I decided to share some highlights to encourage you to check it out by year end. www.amazon.com/
Importance of Culture
As a business owner, do you think "culture" is more a big business thing?
It's not. Culture resides in any size of business in any industry.
Culture Hacks examines different topics, some of which evolved into mainstream business "habits" worthy of being challenged, and in many cases, perhaps unlearned. There is something to be learned for every reader, in every industry, in every geographic location.
Twenty-Six Opportunities
Twenty-six ideas to transform work methods are contained within this book. The topics center around root causes of culture issues such as suboptimal behavior, poor performance, undefined strategy, and unnecessary bureaucracy. The intention is readers test what may work for their team, time, and place, over a suitable period. The expectation is all twenty-six areas may not apply to every reader. Some readers may want to try all twenty-six. Go for it.

Better Business
Better business is just a few culture "hacks" away. Envision a business world with more collaboration, communication, corporate social responsibility, honesty, empathy, teamwork, feedback, visible senior management, and much more.
Readers, as leaders, have the power to tap into the ideas of this book to ultimately create a team culture so invigorating and inviting that others will want to join the evolution. Work will get done, while connecting, and laughing along the way.
Through the simple to follow format of suggested dos and don'ts supported by Colin D. Ellis' personal work experiences, research, appropriate case studies, and historical tidbits, readers can't help but start visualizing benefits of transforming business cultures.
At one point in Culture Hacks, the reader is asked, "You have a chance to leave a legacy of humanity and humility – why waste it?" Great question.
Does it sound like a good use of $12 (current Amazon price)? https://www.amazon.com/Culture-Hacks-ways-transform-work
By Jennifer Musser

Share your thoughts, ask a question, or request blog topics by contacting us at